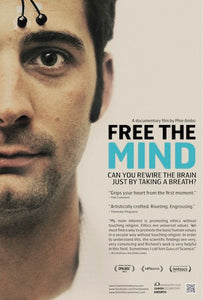 Phie Ambo
Free the Mind
FREE THE MIND: Can you rewire the brain just by taking a breath?
A documentary film by Phie Ambo
80 minutes, 2013. NTSC DVD
English. Denmark
 

In 1992 Professor Richard Davidson, one of the world's leading neuroscientists, met the Dalai Lama, who encouraged him to apply the same rigorous methods he used to study depression and anxiety to the study of compassion and kindness, those qualities cultivated by Tibetan meditation practice. The results of Davidson's studies at the Center for Investigating Healthy Minds at the University of Wisconsin, Madison, are portrayed in Free the Mind as they are applied to treating PTSD in returning Iraqi vets and children with ADHD. The film poses two fundamental questions: What really is consciousness, and how does it manifest in the brain and body? And is it possible to physically change the brain solely through mental practices?
Official selection: HOT DOCS 2013

Official Film Site |Facebook Page 
Press & Articles
"Brain Changer: Free The Mind" - Rewire Me
Cast & Credits
Director
: Phie Ambo
Producer
: Sigrid Dyekjaer
Co-Producer
: Kaarle Aho
Editor
: Marion Tuor
Sound Design
: Rasmus Winther
Music
: Johann Johannsson
Visual Design
: Anders Ladegaard
Featuring
: Dr. Richard Davidson



---
More from this collection