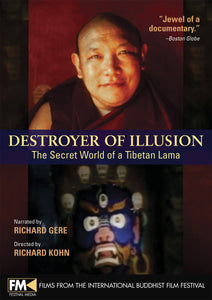 Richard Kohn
Destroyer of Illusion
DESTROYER OF ILLUSION: The Secret World of a Tibetan Lama
A documentary film by Richard Kohn
56 minutes, 2006. NTSC DVD
English. USA
Unprecedented access and intimate knowledge inform this richly detailed and beautifully filmed portrait of a secret Tibetan Buddhist ritual, the Mani Rimdu festival, and the remarkable spiritual teacher, Trulshik Rinpoche, who leads and preserves this centuries-old tradition.
Richard Gere narrates with the clarity and resonant depth of an insider. This is a very special chance to witness a private sacred realm as if you were there.
Just as coronation transforms ordinary men into kings, tantric empowerment transforms men into Buddhas. Hundreds of initiates gather once a year at Thubten Chöling Monastery to learn to become Garwang Tojay-chenpo, Lord of the Dance. He is called this because his infinite creativity is symbolized by dance. He personifies the compassion of all the Buddhas.
"If your mind is pure, everyone is a Buddha.
If your mind is impure, everyone is ordinary." –Trulshik Rinpoche XI
Lord of the Dance is the deity of Mani-Rimdu, the major sacred festival of the Everest region. Each autumn, Trulshik Rinpoche, the spiritual leader of the region, goes from his home in Thubten Chöling to Chiwong Monastery to preside over the festival. His name means "destroyer of illusion." In Destroyer of Illusion we meet the men who undertake these tasks. We see the world through their eyes—a world where the mountains are filled with gods, and a human being's potential is limited only by his imagination and his will.
REVIEWS
"Jewel of a documentary." – Boston Globe
"Pulsating with color, movement, music and…faith." – San Francisco Chronicle
CREDITS
Written and Directed by Richard Kohn
Produced by Franz-Christophe Giercke and Barbara Becker
Narrated by Richard Gere
Filmed on location in Nepal
---
More from this collection