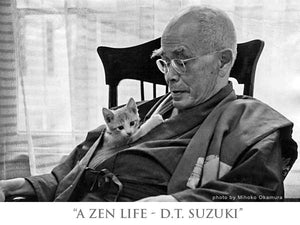 Michael Goldberg
A Zen Life
A ZEN LIFE: D.T. Suzuki
The man who introduced Zen Buddhism to the West

A documentary film by Michael Goldberg
80 minutes, 2006. NTSC DVD. 5.1 Surround Sound
Japan Inter-Culture Foundation
English, and Japanese subtitled in English. Japan, Denmark.
FREE SHIPPING
Daisetsu Teitaro Suzuki (1870~1966) was one of the 20th century's most important writers and thinkers. During his long and extraordinarily fruitful life Suzuki became the first voice of Japanese Buddhism, especially Zen, to the Western World. He traveled and lectured around the world and has had a major impact on religious, artistic and philosophical thinking that continues to this day.

D.T. Suzuki's landmark books, "An Introduction to Zen Buddhism" (1934) and "Zen and Japanese Culture" (1959) changed the world of arts and letters profoundly. More than 30 of his books remain in print.
 
A ZEN LIFE is the first documentary film to present the extraordinary life of D.T. Suzuki. This vivid portrait of the man and his times includes rare footage of Suzuki himself and reminiscences by many whose lives and thinking he influenced.

REVIEWS
"What makes this film unique and special are the ample personal accounts by those who knew Suzuki."  Michiko Yusa (University of Western Washington), published on H-Buddhism (December, 2009) via H-Net Humanities and Social Sciences ONLINE [read full review]

"He's probably the most culturally significant Japanese person, in international terms, in all of history." Gary Snyder, Winner of the Chris Award in Religion, 2006, Columbus International Film & Video Festival

"His teachings were traditional but radical, and influence many, including Jung, Fromm, Ginsberg, Merton and Heidegger. And Suzuki's long life, explored through archival footage and interviews, exemplifies a path of both inner stillness and answering life's call." Tikkun Magazine, 2006
 
"A Zen Life portrays the late Suzuki through archival footage and photographs. But what is most touching and possibly most profound about the doc is the way he lives on in the memories of his students and friends. The Interviewees show themselves to be extensions of Suzuki's teachings by describing the grains of knowledge he provided them – and explaining how the seeds took root." San Francisco Bay Guardian

CREDITS
Executive Producer and Director: Michael Goldberg
Co-Producer: John Wittmayer
Composer: Morgan Fisher
 
Interviewees appearing in the English version
Robert Aitken, one of the first American Zen masters
Shojun Bando, Chief Priest of Ho-onji Temple
William Theodore de Bary, Professor Emeritus, Columbia University
Alwin and Blouke Carus, son and grand-son of Paul Carus
Phil Cousineau, author
Marjorie Edel, active at East-West Philosopher's Conference 1959 + 1964
Frederick Frank, Christian/Buddhist author
Dr. Shigeaki Hinohara, Chair, Board of Trustees, St. Luke's Hospital
Zenjo Inoue, former Chief Priest of Tokeiji Temple
Newton Ishiura, DT Suzuki's secretary in Hawaii, 1949
Bill Johnston, Jesuit father
Elsie Mitchell, co-founder, Cambridge Buddhist Association, USA
Luliko Nakagawa + Nagako Nakada, DT Suzuki's grand-daughters
Hiroko Oda, research assistant to DT Suzuki at Matsugaoka Bunko
Mihoko Okamura, DT Suzuki's personal secretary for the last 15 years of his life
Donald Richie, film and literary critic
Huston Smith, scholar of religious traditions, USA
Gary Snyder, poet
Dr. Albert Stunkard, psychoanalyst, USA
Taira Sato, director, Threewheels Shin Buddhist Temple, London, England
Kenshi Hino, whose divinity student father was conscripted in WWII
 
Also appearing
John Cage
Erich Fromm
Thomas Merton

SPECIAL FEATURES
Deleted scenesInterview
with Director Phie Ambo
32 page Supplementary Text which includes quotes from Dr. Suzuki's lectures published for the first time. 
Special Bonus Featurette: A recently discovered interview of Dr. Suzuki by Huston Smith, 1955
---
More from this collection