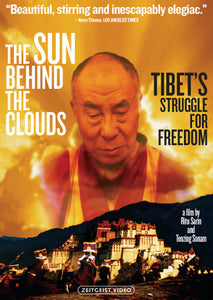 Tenzing Sonam + Ritu Sarin
The Sun Behind the Clouds
THE SUN BEHIND THE CLOUDS: Tibet's Struggle for Freedom
A documentary film by Tenzing Sonam and Ritu Sarin
79 minutes, 
2009. NTSC DVD
English, Mandarin, Tibetan with subtitles. Canada
A provocative and potent look at the Dalai Lama's ceaseless struggle for justice and recognition for the Tibetan people,The Sun Behind the Clouds focuses on the pivotal and particularly tumultuous events of 2008. From the four-month march of exiled Tibetans to the Indo-Tibet border and Buddhist monks' protests in Lhasa, to the Beijing Olympics and the contentious talks between the Chinese government and the Dalai Lama's emissaries, the film uncovers the growing rifts between younger Tibetans and their most respected spiritual leader.
While His Holiness advocates for political autonomy within China rather than secession from it, a younger generation within Tibet has grown impatient and begun to chart a more confrontational course. Following the Dalai Lama's political life with unprecedented personal access, Tibetan filmmaker Tenzing Sonam and co-director Ritu Sarin bring an impassioned focus to the myriad complexities in finding a peaceful solution based on compromise and dialogue.
WINNER - BEST OF THE FEST - PALM SPRINGS INTERNATIONAL FILM FESTIVAL
WINNER - SILVER CONCH - MUMBAI INTERNATIONAL FILM FESTIVAL
CLOSING NIGHT - HUMAN RIGHTS WATCH FILM FESTIVAL
OFFICIAL SELECTION - ONE WORLD INTERNATIONAL HUMAN RIGHTS DOCUMENTARY FILM FESTIVAL
REVIEWS
NY Times review: http://www.nytimes.com/2010/03/31/movies/31sun.html
Rangzen Alliance review: http://www.rangzen.net/2010/06/19/film-reviewthe-sun-behind-the-clouds-tibet%E2%80%99s-struggle-for-freedom/
---
More from this collection