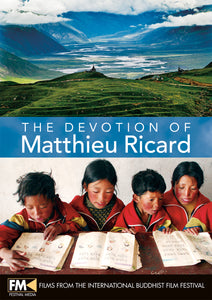 George Schoutten + Babeth M. VanLoo
The Devotion of Matthieu Ricard
THE DEVOTION OF MATTHIEU RICARD
A documentary film by George Schouten and Babeth M. VanLoo
67 min, 2008. NTSC DVD
English (and Dutch and French w/English subtitles)
Filmed on location in Europe, Tibet, India and Nepal, with footage and photographs from Tibet by Matthieu Ricard.
Nearly forty years ago Matthieu Ricard left his native France and a promising career in cellular genetics to become a monk in the Tibetan Buddhist tradition in Nepal. He is now a translator, photographer and bestselling author (The Monk and the Philosopher, Happiness: A Guide to Developing Life's Most Important Skill) and an active participant in scientific research on the effects of meditation on the brain. He is involved in a number of humanitarian projects in Tibet and Nepal, where he resides.
This intimate portrait journeys with Matthieu as he continues the work of his late teacher, Dilgo Khyentse Rinpoche, in the Himalayas, and as he serves as translator for the Dalai Lama in Europe and participates in scientific research there. His vivid photography and accessible stories of a monk's life in the Himalayas feature throughout.
REVIEWS
"The happiest man alive." – Time
CREDITS
Featuring: Matthieu Ricard, Kangyur Rinpoche, Dilgo Khyentse Rinpoche, Shechen Rabjam Rinpoche, Khyentse Yangsi Rinpoche, His Holiness the Dalai Lama, Yahne le Toumelin, Eve Reneleau, Gerard Godet, Madelèine Trehin, Dr. Tania Singer, Uttam Sanjei
BONUS MATERIAL
additional scenes and interviews
gallery of photographs
LEARN MORE
To learn more about Matthieu Ricard and his humanitarian projects, teacher and photography, visit:
www.karuna-shechen.org
www.shechen.org
www.matthieuricard.org
A portion of the net proceeds from sales of this DVD support Karuna Shechen projects, as do those from our book: RIMEY LAMA CHOPA
---
More from this collection