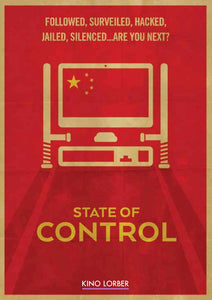 Christian Johnston + Darren Mann
State of Control
STATE OF CONTROL
A documentary film by Christian Johnston and Darren Mann
91 minutes, 2015. NTSC DVD
English, Tibetan, Mandarin, subtitled. USA
State of Control is a bold, feature-length documentary that follows two American filmmakers as they travel undercover in Tibet during one of the most precarious times in the country's recent history. As they document the leading Tibetan activists who are risking their lives to peacefully protest against the oppression by the Chinese government's police state, the filmmakers uncover a David and Goliath battle with high-stake consequences.
The journey takes them through embroiled areas of India and Nepal, then finally into the most conflicted regions of Tibet during a full-scale media blackout. While undercover in Tibet, a dangerous cat-and-mouse game unfolds as secret police begin 24 hour surveillance of the filmmakers. The stakes become heightened when all of their moves are followed, leading to hotel room break-ins, equipment theft, threats of arrest, and ultimately putting the filmmakers' very lives in danger. Forced to flee and return to America, the filmmakers learn the hacking and surveillance they experienced in Tibet has followed them home. They quickly discover that not only themselves but Google, as well as several U.S. corporations, are facing the world's largest and most sophisticated internet attack in history, reaching as high up as the White House.
All of this places the Tibetan existence on the precipice of a high-tech war that they lack the technology and resources to fight. Searching for light at the end of the tunnel, the filmmakers recently joined forces with the activists featured in the film for an unprecedented Times Square media event to help the voice of the Tibetans reach a world stage.
Press kit: http://journeyman.co.uk/media/video/SoC_Press_Kit.pdf
---
More from this collection